2014, a new project called French Connections to celebrate my 60th!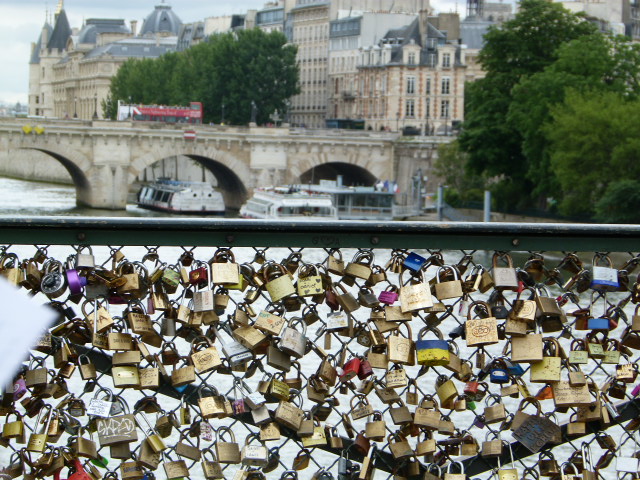 "Savoir se libérer n'est rien; l'ardu, c'est savoir être libre" (André Gide)
"Anyone who has lived in Paris as a young man, takes Paris with him all his life, for Paris is a moveable feast" (Ernest Hemingway A Moveable Feast)
"If we had a keen vision and feeling of all ordinary human life, it would be like hearing the grass grow and the squirrel's heart beat, and we should die of that roar which lies on the other side of silence." (George Eliot Middlemarch)
GOUNOD/LISZT – Hymne à Sainte Cécile
JOHNSON – To the sea (Shimmer – Scuttle – Still)
DEBUSSY – Estampes (Pagodes -La soiree dans Grenade – Jardins sous la pluie)
LILBURN – Sonatina no 2
RAVEL – Sonatine
JENNY McLEOD – Tone Clock Piece no 5 (Vive Messiaen!)
CHOPIN – 24 Preludes op 28
Liszt wrote his transcription of Gounod's Hymne à Sainte Cécile in Paris on June 3rd, 1866 and gave his original manuscript to a personal friend, the Countess Mercy-Argenteau, without having had a copy made. We know from a letter written to her much later that he tried to recuperate the manuscript to have it published. Whatever happened in between, it was only in 1993, in volume XII of the most recent comprehensive Budapest Edition of Liszt, that this work was finally published along with two other hitherto unknown Gounod transcriptions.  In a recital in 2000 at the Théâtre du Châtelet in Paris, I gave the first public performance of these three transcriptions and added them to a Liszt CD I recorded the following year.
New Zealand composer and jazz musician Lucien Johnson was living and working in Paris when he wrote To the sea for a recital I gave at the Salle Gaveau on February 14th, 2007. In April 2014, this work will be premiered in New Zealand.
The three pieces of Debussy's Estampes (Pagodes, La Soiree dans Grenade and Jardins sous la pluie) evoke in turn exotic pentatonic gamelan music he discovered at the 1889 Exposition Universelle in Paris, a night fantasy of Grenada (a town he never visited) and gardens of his childhood in the rain. The first performance of this work was given in Paris by the Spanish pianist, Ricardo Vines, in 1904.
Ravel's Jeux d'eau, another piece created in Paris by Ricardo Vines in 1902, was clearly connected to Lisztian style. The Sonatine by Ravel has a neo-classical purity that inspired many later composers to adopt the form of the Sonatina. One of these works is Sonatina no 2 by New Zealand composer Douglas Lilburn whose centenary will be celebrated next year.
Jenny McLeod studied with Messiaen in Paris and dedicated her Tone Clock Piece no 5, Vive Messiaen! to the composer for his 80th birthday on December 10, 1988. On March 17, 1989, it was my privilege to premiere the first 7 Tone Clock Pieces in Paris, recording them later, in the Adam Concert Room in Wellington, in 2004.
Chopin arrived in Paris at the age of twenty and lived there for the rest of his life. With a Russian passport, he was technically a "persona non grata". Nowadays, I see him as a kind of patron saint to clandestine workers everywhere. As his health was deteriorating, the Preludes op 28, written in Majorca, Nohant and Paris were a synthesis of all his major preoccupations with piano writing.
NEW ZEALAND
April 2, Hamilton 13h lunchtime recital, Gallagher Concert Chamber followed by a public seminar at 15h
April 7, Wellington, evening recital, Adam Concert Room
April 10, Wellington masterclass at NZSM
April 11, Nelson, evening recital, Old St John's
April 16, Christchurch, evening recital,St Augustine's
April 23, Auckland, evening concert, School of Imagination, Sacred Heart College
April 30, Dunedin, lunchtime recital, Marama Hall
FRANCE
October 25, Paris