November, 2016.  When I arrived in France in October 1976,  I landed a job two months later at the municipal conservatoire of the 11th arrondissement as accompanist for the singing classes of the wonderful soprano and teacher Janine Devost. I worked there for over three years and we gave many concerts together, essentially French repertoire, Gounod, Hahn, Faure, Debussy, Ravel, Poulenc (Pierre Bernac coached us on all our Poulenc repertoire several times before his death), all the Duparc melodies. In this performance of Poulenc's C'est ainsi que tu es, which turned up a few years ago on youtube, I am unable to vouch 100% that it is me playing. Even the person who posted the clip was unsure. However, I do remember recording it with her in the studio at the Conservatoire and it was always one of our encores. This said, it could be pianist David Selig who took over from me when I left to study in Israel. Whatever the case, Janine is always in my thoughts.
Though I am not 100% sure that it was me playing for Janine Devost, I am sure, even though you may not be, that it was me playing a few bars of the first Chopin Nocturne for this Kate Moss Vintage commercial a few years ago.
And while I'm about it, let's clear up another area where you may not be 100% sure. Yes, I am not really playing in A Heart in Winter (Un Coeur en Hiver). In this penultimate classic film of French director Claude Sautet, winner of the Silver Lion at the Venice Film Festival in 1992, I appeared as an actor. Neither is Emmanuelle Beart really playing the violin. Casting real musicians to accompany her was an idea of Sautet to help the illusion. Though professional violinists never doubted, in my case it sometimes led to confusion.
May 30, 2013. A video from a live concert in Le Quesnoy in 2012 featuring the first three Tone Clock Pieces of Jenny McLeod, explaining to a French audience my deep love of this music, and the many things it evokes for me.
July, 2014. A video of a 1989 performance of Rachmaninov's Liebesleid and Liebesfreud at Le Studio Regard du Cygne in Paris, a great experimental place.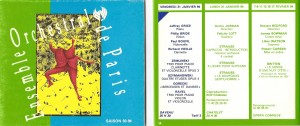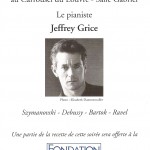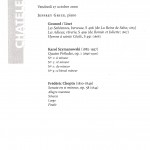 On July 7, 2018, France Musique devoted a program to the wonderful Swedish mezzo soprano Anne Sofie von Otter, featuring among many things two extracts from her French debut in the Salle Pleyel on March 20, 1986 with the Nouvel Orchestre Philharmonique. For the first time in over 30 years was I able to hear that performance of Mozart's Ch'io mi scordi di te with me as the piano soloist. I have asked them to correct the spelling mistake that bills me in the podcast as Jeffrey Price, probably an error emanating from the original archive. This said, in the printed program reproduced below, Anne Sofie is also misspelt and Angela Denning, ill at the time, was replaced at the last minute by Janet Perry.